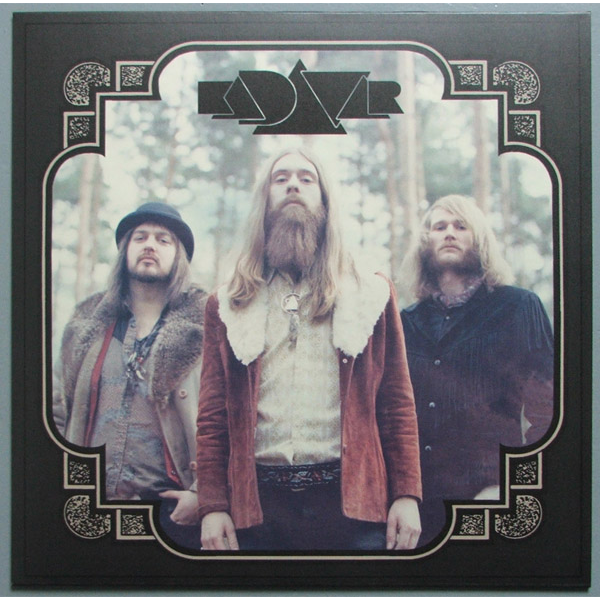 Excelente vinilo que tuve la oportunidad de comprar hace algunos meses a través de una distribuidora especializada en Rock y Metal cerca de mi lugar de residencia. Valió la pena comprar este trabajo de edición limitada ya que es considerado ahora una obra "masterpiece" debido al estilo que le imprimieron para reflejar un sonido adictivo en este disco. Esto es para los fans y melómanos del Heavy Metal y Stoner Rock de los años 70´s.
Déjenme introducir una breve remembranza de la banda, corría el año de 2010 cuando unos jóvenes músicos de Berlín, Alemania se encontraban en la búsqueda de composiciones creativas como hobby para pasar el tiempo, eran

Phillip Lippitz

apodado "Mamut" en las guitarras y

Christoph "Tiger" Bartelt

en la batería, improvisando temas basados en el Stoner Rock y psicodélicos, luego de un demo publicado en ese mismo año se les unió en el bajo y como cantante

Christoph "Lupus" Lindemann

. Aunque luego de varias sesiones optaron porque Lippitz pasará al bajo y Lindemann se hiciera cargo de las guitarras y permaneciera en la voz de la agrupación. Así daría comienzo la historia de KADAVAR.
Así la simpatía y empatía que la banda tenía por el rock de los 70´s principalmente en las venas de Black Sabbath aunque habría que decir su propio estilo se impuso, puesto que no usarían notas vocales o timbres como las del mítico Ozzy Osbourne. Así consiguieron en el año del 2012 publicar a través del sello independiente The Charming Records/ Tee Pee Records su álbum debut ante la audiencia que disfruta este tipo de Rock y Heavy Metal al mismo tiempo, marcado con un oscuro toque gracias a las letras y los rifs de la banda. Buenos compases de la batería y de las estructuras de la guitarra con una singularidad en el sonido que te hace sentir adicción a estar escuchando sus piezas sin descanso. Vaya que una banda actual es difícil que logre tener este impacto, pero ellos son de los pocos que lo han conseguido.

La banda basó su estilo de grabación a la vieja usanza de las grabaciones de los años 70's donde en el estudio se distribuían las guitarras en el canal izquierdo, el bajo a la derecha, la batería en la parte interior derecha y la voz en el centro; con este tipo de "paneo" de la grabación se recogía a esencia de lo que sería los conciertos de la banda, según palabras de la propia agrupación. Y en verdad que en este disco puede sentir la esencia de aquellas bandas gloriosas de los años 70´s y casi principios de los 80's.
El track list de la banda en su debut se encuentra así
Lado A
"All Our Thoughts"

4:35
"Black Sun"

6:13
"Forgotten Past"

5:38
Lado B
"Goddess Of Dawn"

4:13
"Creature Of The Demon"

4:48
"Purple Sage" 8:12
Edición de lujo con este vinilo color rojo que en total trae 6 canciones todas con muy buena manufactura sin embargo debemos hacer mención de algunas de ellas como himnos sobresalientes que sin duda, te harán rememorar a las grandes agrupaciones oscuras de los años donde el Heavy Metal y el Rock de corte "oscuro" apenas empezaba a despuntar con bandas como Black Sabbath, Hawkwind, Witchfinder General o Grand Funk Railroad por mencionar algunas.
Estupenda coloración del vinilo rojo y con la decoración del logo de la banda en el centro del mismo con la leyenda del disco. Le da un toque de aquellos vinilos que salían en los años setenta como de las bandas mencionadas con anterioridad, donde se respiraba un aire de misticismo en el diseño. Vaya que seguramente recordarás a más de una edición en vinilo con la misma característica.
Para empezar a con las buenas canciones que trae este disco se encuentra

"All Our Thoughts"

con ese peculiar sonido en las guitarras con los rifs densos a lo largo de la pieza que empiezas a decir: "Oye esto es la esencia de los años 70's!!", "¿es un grupo perdido de la época?" o "¿Serán los hijos perdidos de Black Sabbath?". En fin que te sorprendes con el estilo de esta banda actual alemana en ésta pieza inicial. Desde este momento ya eres bienvenido al mundo de la banda, las letras que hablan del oscurantismo suenan malévolas en cada uno de los pasajes de la canción.
KADAVAR "All Our Thoughts"
Como segunda pieza a destacar esta la titulada

"Black Sun"

una verdadera adicción al sonido de las guitarras que desprende la banda en ésta composición. Sin duda se llevan las palmas los integrantes de la banda y es que la grabación a 33 1/3 en que está realizada se puede apreciar la claridad de los instrumentos, todas las estructuras de la guitarra en sus tonos sostenidos y densos pero con muy buen "feeling" en todo momento, grandiosa la voz de Lindemann te lleva por toda la canción a sentir adicción al escucharla, sumado a esto las guitarras como ya hemos mencionado es uno de los puntos fuerte de la agrupación. Sin duda que bien podría confundirse con alguna pieza de Black Sabbath pero cuando parece suceder su estilo se hace presente llevando los rifs y cambios de ritmo en el momento exacto que te encuentras absorto con esta canción. Un nuevo himno del Rock contemporáneo? Tu tienes la palabra!
KADAVAR "Black Sun"
Finalmente se encuentra la pieza titulada

"Creature Of The Demon"

es la número 5 del álbum, un composición donde suben la intensidad del tratamiento de las guitarras haciéndolas más densas y pesadas, nuevamente el nivel de la banda es impresionante al plasmar una canción con todo el toque del estilo de los años 70's. En verdad que te imaginas en esa época y este track en particular sin duda hubiera pasado fácilmente como uno de aquellos años sin ningún problema para el grupo. Nosotros agradecemos infinitamente y damos la bienvenida a la creatividad moderna rescatando lo mejor del estilo de antaño en las composiciones modernas.
KADAVAR "Creature Of The Demon"
En fin que para que disfrutes de principio a fin todo este trabajo te recomiendo conseguir en alguna reedición este trabajo de la banda alemana ya que su popularidad ha subido bastante a raíz de la publicación de este álbum y de su siguiente material, por supuesto que hay bandas que tienen actualmente un sonido parecido pero no igual al de éste grupo además que superó con altas expectativas en el nivel compositivo al resto de ellas. Kadavar supo conjuntar un buen estilo en su primer trabajo que lo llevó a ser fichados por la Nuclear Blast una label especializada en el metal extremo también de su país, una vez que pasó un año la publicación de este trabajo. Sin duda el primer paso estaba dado la banda que empezó a vestirse con usanza de ropas de medio uso en boutiques especializadas en vestimentas de años anteriores se había posicionado muy bien entre el gusto del publico.

Aquí la edición de la This Charmingman Records/Tee Pee Records en el 2012.
Espero que esta pequeña reseña te haga involucrarte en la música y estilo de la banda, vamos que date una oportunidad para conocer que tanto puede aportar una agrupación actual a un estilo que se viene manejando desde los años 70´s. Para rematar todo esto la banda no se considera parte del movimiento "oscurantista" o "satanista" a pesar de las letras de sus canciones. Hasta la próxima reseña amigos y amigas del blog.
ANTON.